CHEVROLET OF MONTEBELLO CELEBRATED FEBRUARY'S EXTRA DAY THIS YEAR BY SURPRISING 100 RANDOM CUSTOMERS AT A LOCAL SHELL STATION WITH A T-SHIRT AND $20 WORTH OF FREE GAS.
"Chevrolet has a nationwide campaign called #DAYITFORWARD to celebrate leap year which occurs every four years by doing random acts of kindness throughout America," said Chevrolet of Montebello Dealer-Principal Chris Teague. "We decided to join the effort by giving away free gas."
"Time is such a precious commodity and having an extra day this year presents an amazing opportunity for all of us to do something impactful," said Paul Edwards, Chevrolet vice president of marketing. "The Chevy team is going to take those extra hours and put them towards doing unexpected acts of kindness for people - something that we hope others will embrace and repeat."
"Leap day, February 29, is an extra day that all of us have to pay for basic necessities such as gas and groceries," said Teague. "We are trying to ease the burden of that extra day's expenses by giving away free gas."
"This is great," said one surprised Shell customer. "I never expected this when I pulled in for gas this afternoon. Thank you Chevrolet of Montebello."
"With everything so expensive these days, every bit helps," said another customer. "What a wonderful thing for Chevrolet of Montebello to do."
"Small acts of kindness, whatever they may be, can help change a bad day into a great day," said Teague. "Chevrolet of Montebello was happy to spread a little unexpected cheer today."
---
CHEVROLET OF MONTEBELLO PRESENTED A CHECK FOR $2,000 TO THE MONTEBELLO BASEBALL ASSOCIATION (MBA) AS PART OF OPENING DAY CEREMONIES HELD MARCH 5 AT GRANT REA PARK.
"Chevrolet has a program called Chevrolet Youth Baseball" encouraging dealers to sponsor local youth baseball leagues," said Chevrolet of Montebello Dealer-Principal Chris Teague. "We began our sponsorship of the MBA in 2011. It's a great program that keeps kids active and off the streets."
"We've been here for opening day for five years now," said Chevrolet of Montebello Internet Manager Kevin Rivas. "It's awesome to see Grant Rea Park filled to the max and see so many of our customers who have their kids in the baseball program."
In addition to the $2,000 monetary donation, Chevrolet of Montebello also donated ball buckets and lids, base sets, batting tees, scorebooks, equipment bags, cleat cleaners and other equipment to the program.
"Along with baseball, Chevrolet of Montebello is proud to sponsor Montebello youth football and cheer, as well as soccer," said Teague. "We love helping out the local community, not just with sports, but with other events benefitting local high schools, the police department and other organizations."
There are over 1,800 Chevrolet dealers involved with the Chevrolet Youth Baseball program, and so far over $13 million has been raised to support the game and its players across the country.
"We had a great time here today," said Teague. "The baseball program keeps getting better and better."
---
*ARTICLE FEATURED IN SPOTLIGHT
"We are all happy to do our part and contribute in some way to finding a cure"
*article featured in Spotlight on Montebello December 2014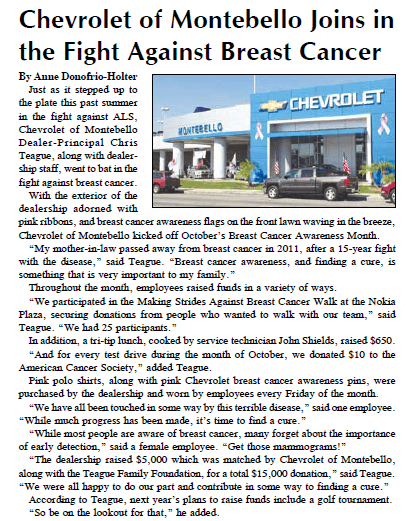 ---
WE TOOK THE CHALLENGE!
*article featured in Spotlight on Montebello October 2014