Extra Peace of Mind for the Years to Come, Please contact Hugo Meixueiro or Sirenio Victoria for further assistance.
As the proud owner of your vehicle, you try to ensure that it stays clean, that regular maintenance is performed, to avoid any condition that could damage your precious investment. Unfortunately, life is so that there's always a risk that your new or used vehicle will experience a mechanical breakdown.
When it does happen, the expense of the breakdown may surprise you. Vehicle repair costs increase every year and can add up fast. With a nationally accepted GM Protection Plan you pay only a small deductible, if any, per covered repair visit. The cost of a GM Protection Plan can also be financed interest free for 12 to 18 months, giving you an affordable opportunity for peace of mind on the road. So, even if your vehicle breaks down, it won't break your budget.
What type of plans and coverages are available? GM Protection Plan offers different levels of vehicle service and maintenance contracts.
Major Guard - The premium, comprehensive vehicle service contract covers virtually every component of your vehicle, as well as providing Alternate Transportation and Roadside Assistance, including towing for covered repairs.
Value Guard - The quality vehicle service contract that covers parts and labor for nine major vehicle assemblies (engine, transmission / transaxle, front / rear-wheel-drive assemblies, vehicle manufacturer-installed air conditioning systems, electrical systems, braking system components, front suspension, fuel system and steering system), Alternate Transportation and Towing for covered repairs.
Basic Guard - Essential protection covering four major assemblies (engine, transmission / transaxle, fuel system and front / rear-wheel-drive assemblies) for parts and labor costs, as well as Towing for covered repairs.
---
MAJOR GUARD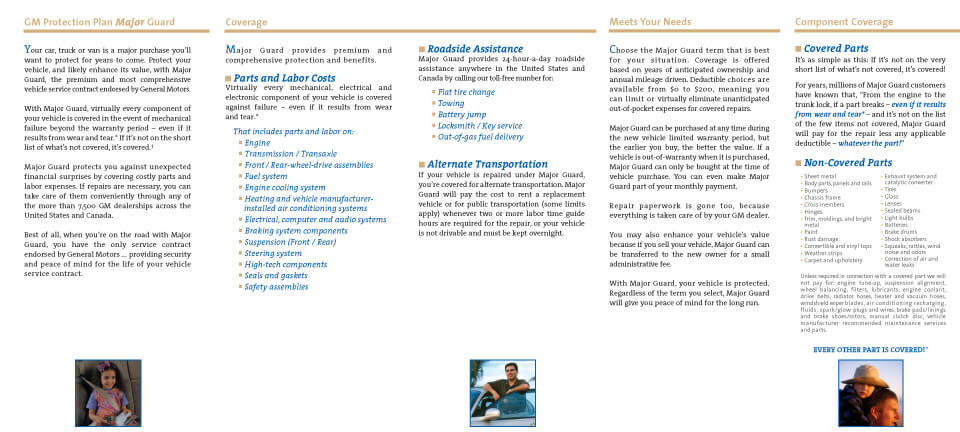 ---
VALUE GUARD
---
BASIC GUARD